Quality Department
Our quality assurance (QA) and quality control (QC) are our virtual factory's gate guards, nothing goes in or out without their review and confirmation.
Both QA and QC work side by side with our regulation department and follow ISO instructions.
Our Quality system includes:
---
Our QC will perform inspections and operate the required techniques and activities, which will be determined both by the regulation and by the customer. Following the engineers' instructions on the various QC protocols (IQC, IPQC, FQC, OQC) with their specified instructions, they will measure, examine and test according to the defined AQL (Acceptable Quality Level), using a well-equipped technology with the tools needed for each individual part.
Our in-house laboratory
To ensure the highest quality, we use our advanced laboratory to test materials in the development stage and guarantee consistency during mass production.
Our very own enhanced lab works hand in hand with our regulatory department to provide full support to our ongoing projects and production lines.
We often develop our own unique testing equipment according to our customer's needs, following regulation standards.
Our in-house lab includes:
---
Aging machine
Tensile Machine
Impact machine
MFI tester
Heavy metal XRF analyzer
Spring lifetime test machine
Hydrogen embrittlement device
Edge crush test
Water-resistance tester
Slider Spring Lifetime test machine
Cord lifetime tester
Running machine
Drum test machine
Vickers hardness tester
Drop tester
Carton edge tester
Water-resistance tester
Management Support Software
We believe it's essential to seek any way to increase efficiency, control and communication, allowing us to manage our business functions within a centralized and integrated system.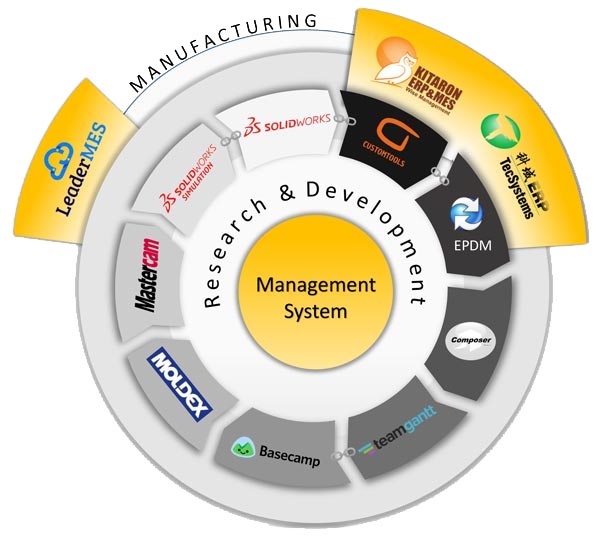 PDM 'Product Data Management'
Basecamp - online project management tool to better engage both internally and with our customers, synchronizing with our termagant and consolidating all communication in one place.
ERP 'Enterprise Resource System'
MES 'Real-Time Production System'
Custom tools to manage our SolidWorks data
Kitaron System - an integrated ERP and MRP with a single database for all system applications
Solidworks
Solidworks Simulations - Demonstrate real product conditions to increase efficiency and quality.
Moldex - Injection moulding simulation and analysis.
Teamgantt - Intuitive Gantt charts and fully integrated with Basecamp.
Mastercam for Solidworks - Standardize our CAD files database.